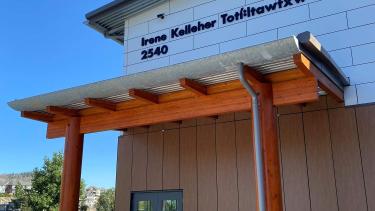 Irene Kelleher: Our New House of Learning
September 22, 2022
Irene Kelleher was born in Matsqui on December 16, 1901. Irene's parents attended Saint Mary's and Saint Anne's Residential School in Mission. Raised in the Fraser Valley and eventually returning to the area later in life, Irene was a vital contributor to public education in British Columbia and a respected community leader.
Born of Indigenous grandmothers and settler grandfathers, Irene Kelleher lived her life in the shadow of her heritage, deeply affected by the racism of the colonial culture in British Columbia. In her youth, Irene attended school in Abbotsford as one of the only mixed-race pupils, exposing her to prejudice based on her ancestry and gender. These challenges followed her throughout her education and early on in her career. However, Irene persisted through the adversity and became one of the first people of Indigenous heritage to receive a BC Teacher Certification.
Unable to get a job close to home, Irene taught in the farthest reaches of the province for almost 20 years in small single-room schoolhouses and remote island communities. In 1939, at the outbreak of World War II, she returned to her hometown of Abbotsford, where she was hired at North Poplar Elementary. Supporting hundreds of students over her career, she eventually retired as Principal of Abbotsford Elementary School in 1964.
Irene Kelleher gifted us the lesson of how we should and should not act towards each other. She modelled what it means to persevere through a traumatic history and demonstrated how to live life in a meaningful and encouraging way for others. Irene left a legacy of respect, patience and kindness towards her students and peers, which will be commemorated in the history of this elementary school.
For almost 30 months, our school, modelled on an Indigenous story about the people during the great flood from years ago, was just a shell. The story shared with many of us at the school explained how the Sto:lo people hauled their canoes to the top of eagle mountain to protect them and wait for the water to recede. The architecture features timber throughout the design to connect back to this element of the story. From the six cedar poles at the entrance to the cedar beams that mimic the inside of an overturned canoe when you look up to ... this story is told. Natural light soaks into the learning studios, with some rooms able to open the wall of windows allowing students to be learning in and outside of the school effortlessly. Today, the Totí:ltawtxw (house of learning) is complete with an amazing team of professionals with beautiful children from Semá:th and our new catchment.
We stand together to build an outstanding community of learners whom Irene would be proud to associated with. I know we have already made her proud.
SHELLEY PORTAS, PRINCIPAL
Irene Kelleher Totí:ltawtxw